Sharing The Magic With Leo Karr
Today I am shinning the spotlight to a friend of mine from the Disney College Program who also happens to be one of the most dedicated Cast Members I have ever met.
When I met Leo Karr he was in the International program and lived in right in front of my apartment. He worked custodial and from time to time I would see him make magic for the guests. Leo came back to the live in states and to work for Disney. In this interview, he shares his love for the company and how he creates happiness in his role.
Leo Karr
Role: Custodial (Guest Services
Home Location: Magic Kingdom
What does it mean to you to be a Cast Member?
To be a Disney Cast Member is a huge responsibility. We are in charge of preserving the magic! Magic only exists in the world if we all work together to make fantasy a reality. Our responsibilities are many, to bring the guests out of the real world into the world of fantasy. To help the guests forget about the struggles and hardships of life and to bring them into the most magical place on earth. A Cast Member is the difference between the guests thinking: 'I'm spending money at a theme park,' and 'I'm spending the day at the most magical place on earth!' We make a difference!
Tell us a story of your favorite magical moment?
I was walking in Frontierland, greeting guests on my journeys with wave of my hand, a skip to my step, a bow from my back and tip to my hat! I noticed coming in my direction: A Royal majesty holding the hand of a Bibidi Bobbidi Boo Boutique pittle princess. She was dressed in a Sparkling Gold Dress, with her hair up full of pixie dust and a royal crown!
She looked like a princess, but the look on her face left me with the impression that she didn't feel like a princess. So I dropped down to my knees, bowed, and announced out loud, "Her royal majesty and princess have arrived into Frontierland! Make way for the princess!" With another bow I said, "Princess have a magical day in your Royal Kingdom!" She smiled and skipped away with excitement and it was at that moment I knew that she now felt as she should, Like a princess!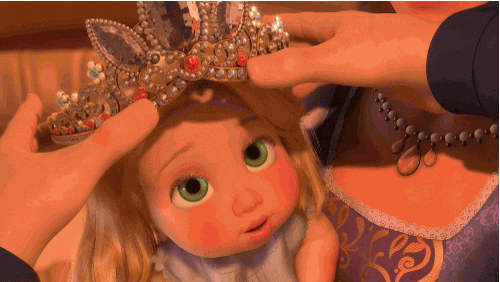 "Some days will be easy, some days will be hard, some days will be stressful, but remember this: You are the Magic, You make a Difference, and You are the Key to Disney"
How do you personally make magic?
There are a few ways I make magic for the guests: I am known as the whistling custodial. I can whistle many of your favorite Disney classical music. I will ask for the guests favorite Disney movies or visually see the Disney representation on their shirts or bags and whistle the tunes from their favorite Disney movies! I dance along with the guests, sing with them, I bow and announce every prince and princess I see in the Magic Kingdom! I play custodial golf, chase down magical pieces of parchment paper, I tell stories and jokes to passing by travelers, etc! The opportunities for making magic are unlimited.
How do you think you will be able to apply your Cast member mindset and skillset outside of Disney?
"Create, Motivate, Inspire!" That's my mantra. The Disney mindset is a living one. It's to create something bigger than one person. It's to motivate others to help you design this big image you have create into something real, and it's to inspire the world around you! No matter where you go in the world, the Disney mindset is a universal tool you can use anywhere to change and better the world you know . Today, into a more magical and happier world of tomorrow!
What is some advice you would give to future College Program participants?
Some days will be easy, some days will be hard, some days will be stressful, but remember this: YOU are the Magic, YOU make a Difference, and YOU are the Key to Disney. YOU are Responsible for bringing guests out of the real world and into the world of fantasy. YOU are the one crating the Magic and Happiness for the Guests. YOU are the ONE who can make that Princess Feel like a Princess! YOU are what Makes Disney Mean Something! I highlight the word "YOU" because YOU make the Magic, and YOU make the Happiness. YOU make a Difference!
Now for some fun facts about Leo!
Favorite Disney snack: Mickey Cream Cheese Pretzels! Favorite ride: Smuggler's Run
Follow Leo's Story https://www.facebook.com/leokarr